Account ManagerWeWork
First iteration of a new web portal for WeWork primary members, where they get information and take action about their billing status with WeWork. The project included extensive interviews with members and proposing a brand new interface which is also available for external users.
Product Designer and Researcher
Although being in business for 10 years, until recently WeWork members had little visibility of their membership's billing and payments status, often discovering billing mistakes after their invoice was issued, or getting late fees because payments didn't go through. For these reasons, we needed a new interface for primary members where they could control all aspects of their WeWork membership, such as members, add-ons and all financial aspects related to invoicing and payments. We called this new interface "Account Manager".
When we started the project, there were a few screens inside the Member Network in which the primary member could follow up on their upcoming bill and past invoices, but the information was inaccurate and difficult to find and understand, as proved by user interviews and Hotjar recordings.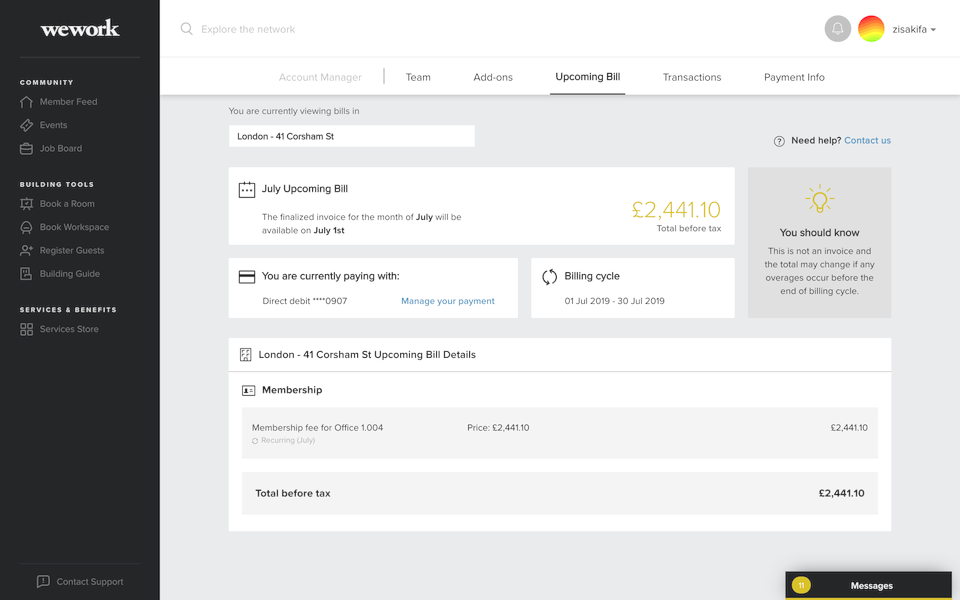 Before Account Manager | Details for the member' upcoming bill, some of them partial and inaccurate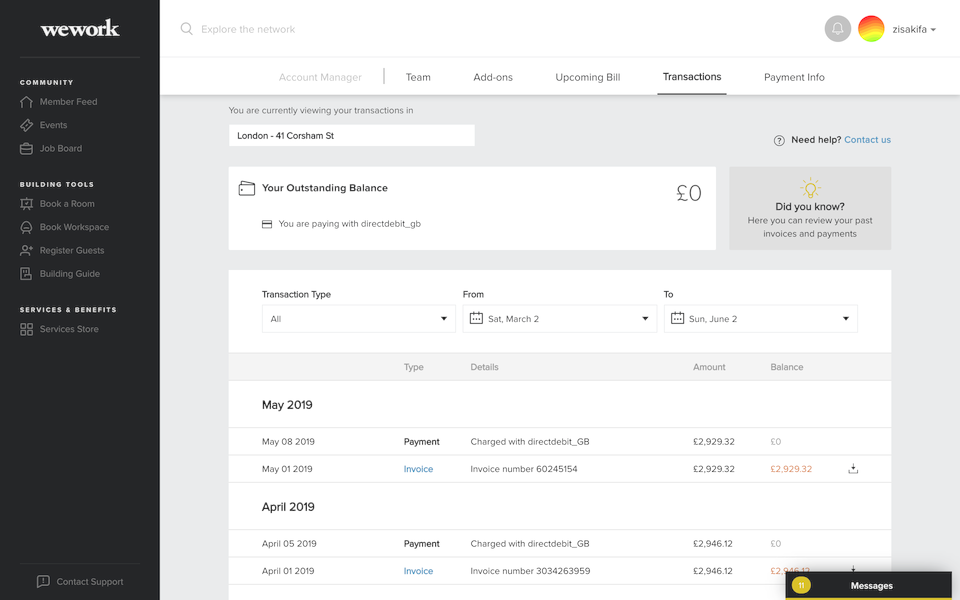 Before Account Manager | Past Invoices and Payments, oddly called "Transactions"
Research
I interviewed over 20 WeWork primary members and gathered insights on the financial aspects of their membership, previous issues they had before and how they solved them, and actions they would need to perform. These interviews taught me what our users are expecting to see and do in the Account Manager.
A quick glance of the interviews raw data
After interviewing the members, I found patterns in the raw data and draw conclusions in a presentation for all stakeholders. These insights led the direction for the detailed designs and more specifically, the information architecture and the actions available in the new website.

Part of my conclusions on a tidy presentation
The New Account Manager
With a better understanding, I created the following screens, which live in a brand-new responsive website. From a design perspective, we were very conservative and kept it aligned to the current style of the Member Network.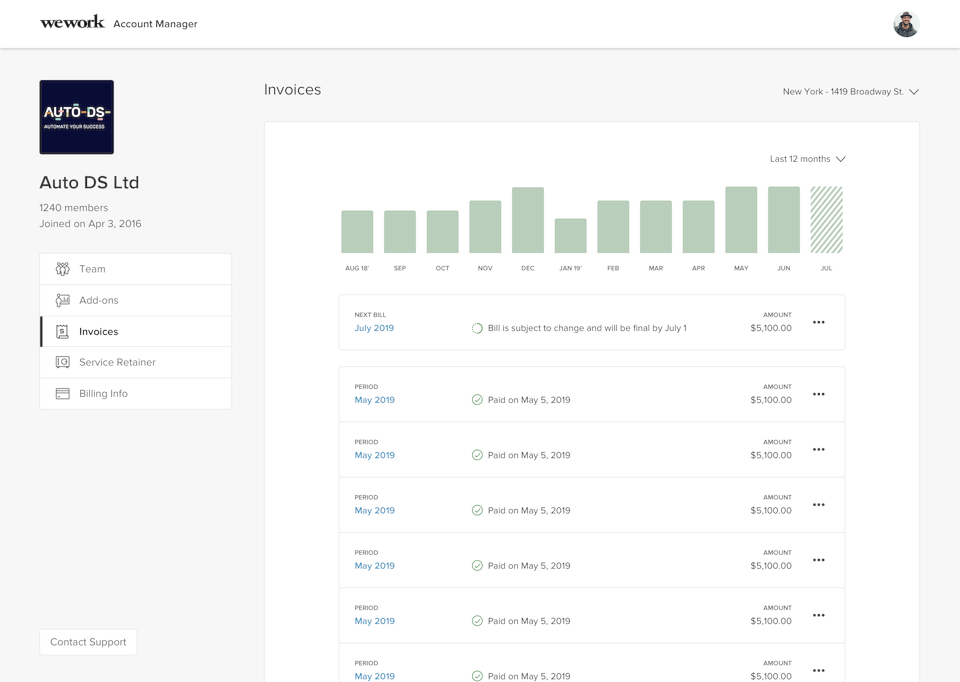 Invoices and Upcoming Bill screen - Members loved the payments trend!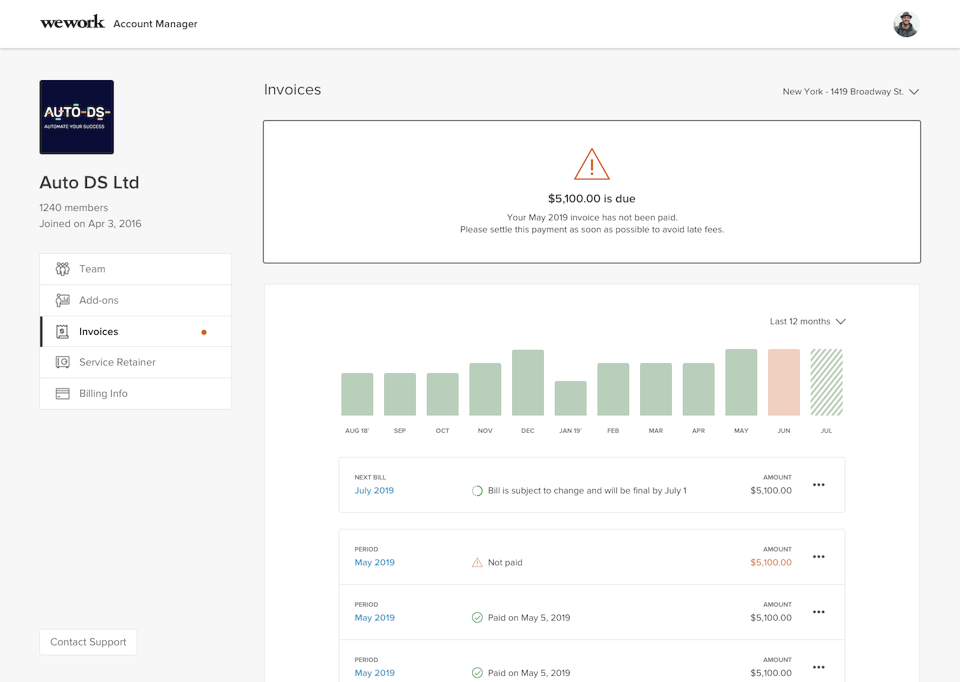 One of the main challenges was to tackle every single case that would require a notification

And so, there were few screens but a bunch of versions for each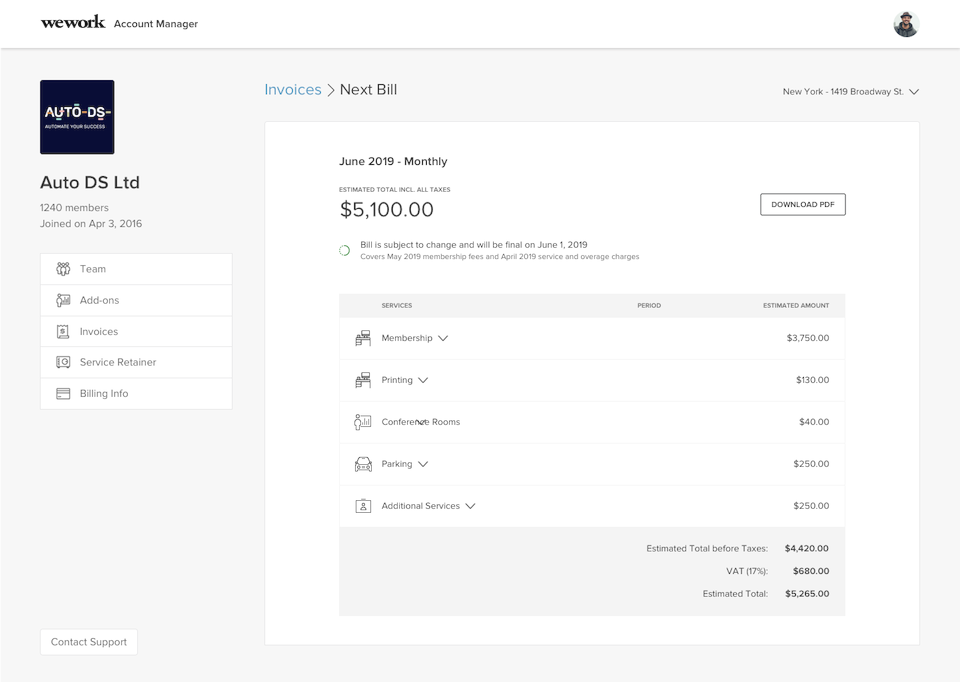 Your detailed Next Bill brings transparency over your monthly payment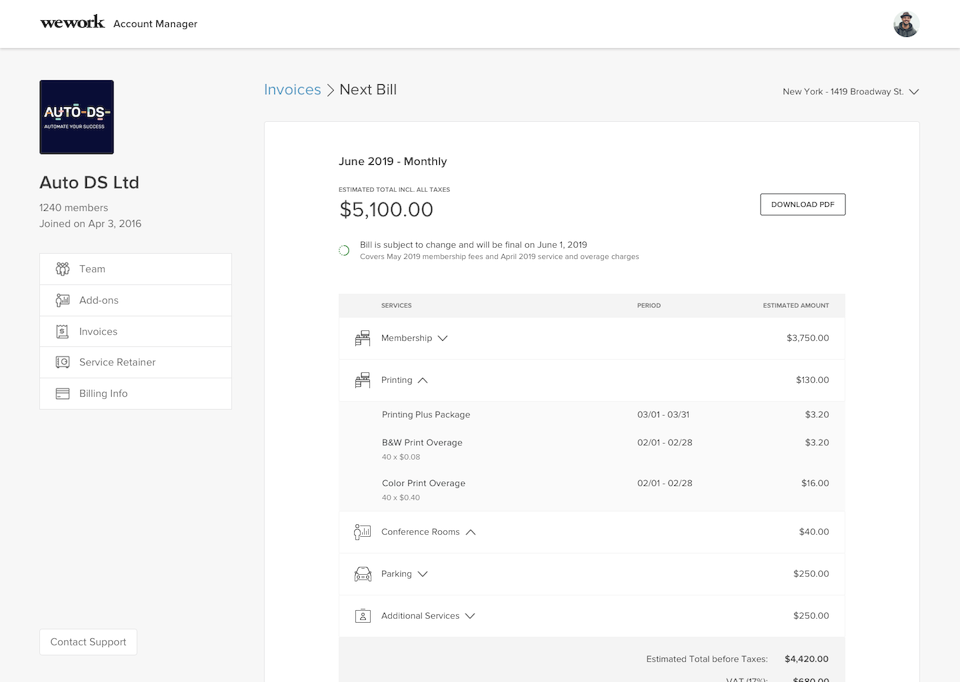 Each category can be expanded to see every single expenditure
Billing information includes your payment method, legal data and billing contacts allowed to reach this website and see invoices
After launch, 82% of surveyed members declared they were very or extremely satisfied with the new website. I am right now working on the second iteration, using a new and fresh design system! Here is a sneak peak of it: